RSS is a complete edge protection system for both flat and sloping roofs. The lightweight aluminium fence can be hooked onto the roof edge and is supported against the façade by a stanchion.
The RSS edge protection system causes no damage to the façade and does not stand on the ground.
How does the RSS system work?
The stanchion hangs in the gutter and is braced against the façade. The system (stanchion, fence, edge plate, hooking bar) weighs 9.4 kg per running metre.
A fall causes force against the fence. This force is absorbed by the stanchion, which is braced against the façade. That way, the load on the gutter is minimal.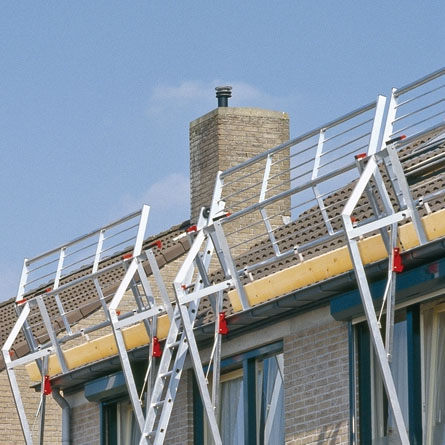 - high-quality aluminium, very light
- no loose parts to get lost
- even usable on roof edges with an overhang up to 1 metre
- usable for flat and sloping roofs
- quick and easy to move
- no damage to facades or gardens
- easily lengthened or shortened
- reversible fence
- fast and easy to (dis)assemble
- stackable for transport

Also usable with obstacles on the ground or on the façade.

The RSS system for sloping roofs is patented and certified to European standard EN 13374 Class C.